Written by Lyle Makosky, HHFL friend and supporter from Canada
My wife, Joy and I arrived in Nairobi on Feb 7 and were anxious to visit the HHFL site as soon as we could since we have been supporters of the program from the beginning (we run fund raising events for the HHFL a couple times a year among others) but had only seen the progress through viewing this fine website. There is nothing like a real time face to face experience to open your eyes to the scope and reality of what's happening here.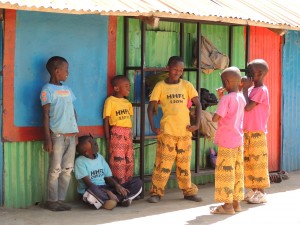 As we arrived, we were greeted by smiling faces and warm welcomes while Hanne and Ted introduced us to the project children….what a thrill to see them in the project surroundings for the first time! The young children (pre school and primary grades) look healthy with the kind of glow that comes from good nutrition and emotional support and caring…perhaps in degrees they have never experienced. They have a joyful spirit, which is hard to imagine given the desperate conditions they grow up in and the lack of opportunity to experience childhood as we know it in Canada. And yet, they have a joy that is infectious, and an energy that suggests possibility….possibility to engage the future whatever that may be and its evident that the HHFL project is broadening and opening up the opportunity of futures that were only a dream in recent years past. We watched them at play, lined up (smallest to the tallest) for their lunch (they receive three good meals a day), happily consuming the meals, returning to their studies or creative art and play sessions, showing a fine balance of organized discipline and scattered chaos typical of a community of children experiencing life now as they should, knowing that even more is yet to come.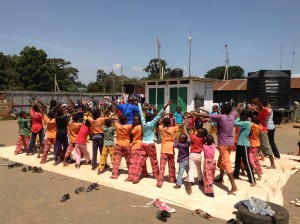 Then on Saturday, a regular visit by a wonderful martial arts/exercise instructor  (Salim) who leads the children in a class of high energy exercise and martial arts (kick boxing based) which they love. He is an inspiring man, building their self confidence in themselves, their physicality and their defensive ability, while emphasizing that such a martial art is really about physical and emotional control and is to be used only as a necessity not to express aggression which is a valuable tempering of the tendencies in their challenging street life. In addition, I loved that each session was based on/incorporated a message on life which he cleverly weaved into the process. That day the lesson was on equality and fairness…equal consideration and treatment of both genders and fairness on how one treated others….beautiful!
The following week, one day we spent a hilarious time viewing the pictures and video I had recorded of the children in the exercise class with all of them climbing over each other to see what they looked like on a display screen….much giggling and shy pointing.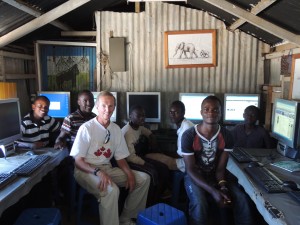 The rest of our time there was spent with the recent graduates of Form 4 (High school grad equivalent) who were awaiting their final results. This is an important choice point in their lives and in their path through the HHFL project….that is to consider the key life questions: what is my next step in life, what would I like to do, what higher education and/or training should I, and could I, pursue, where do I go for this education, will I be able to access and afford it given the higher cost and our situation?….compelling questions and the responses and choices made now will affect the rest of their lives. Elsewhere on this web site, the reader will have read of the terrific work done by Alexandra Howard to help these grads to consider these questions, take stock of their skills and hopes and begin the process of identifying a desired training or higher ed path and related selection of colleges etc. We were happy to spend time with each of the grads, helping them where we could, to think through the choices and what would work best for each and what colleges would be best to pursue etc.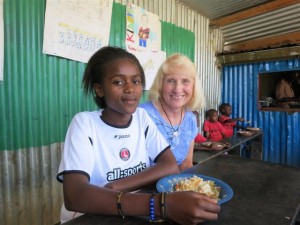 It is truly moving to see the hope in their questions about the next phase of their life, to see the desire to become something that a few years ago must have seemed impossible, to see the pride as they spoke of what they have achieved so far and why they believe more is possible. We are so blessed in Canada to have the opportunities and choices available to us, (even if pursuing them is still a big challenge for many) while such choices are often limited to such a small percent of people in African countries and especially those living in slum conditions. Now we can see that this project is breaking through that wall for this first wave of secondary grads, enabling them to consider the unthinkable, to reach for the unreachable. They are a wonderfull group of young people who can access a productive and wholesome life and be a credit to the Kenyan society. It was an honour to see and contribute a small part to their emerging light. We will look forward to following their progress.
For those of you reading this blog and who may be supporting or considering supporting this project, may I say to you in all sincerity….this is a compelling initiative, that is changing the lives of these children and young people on so many levels, each with a story to tell that moves me at the deepest levels and a hope for a possible future that was beyond any of them before. This is something worth supporting and the return can't be measured for it is about enabling the human spirit.
Ever wanted to climb Africa's highest mountain?
NOW IS YOUR CHANCE!
The 2013 Mount Kilimanjaro Challenge is being organised privately by a Dubai-based Canadian/British HHF supporter, Jennifer Hardie, who has teamed up with UAE registered charity, Gulf for Good, to plan this exciting adventure challenge from July 5-13th. All funds collected will go toward education and sponsorship for HHF's disadvantaged children in Kenya!
Make 2013 exceptional and register now!
To register or learn more, visit http://2013kili.wordpress.com or e-mail jennifer.hardie@pinnaclepr.net
Our thoughts and prayers are with Kenya and its people during the upcoming March 4th elections.
Poem written by Carolyne Wangare, 19
"PEACE"
As the sun comes up in dawn
As the sun sets down in the evening
As the flowers sprouts up at winter and dries at summer
That's how peace rises in our hearts and falls when violence begins
Today's seed will produce tomorrow's harvest
Today's lemons are the ingredients for tomorrow's lemonade
Same as today's peace will lead to a better, rich
Developed and Beautiful country tomorrow
Peace is not a matter of how strong you are
But it is a matter of taking risks for things that matter most
It is not a matter of fighting for what seems right
But it is a matter of fighting for what is right and fair
Our first leaders fought for peace and freedom
Why do we want to fight for captivity and war?
Just let go of what you are that is hate and violence and
You will become what you might be that is love and peace
Embrace every challenge and have a positive attitude always
For peace is the key to the home of freedom and not captivity
For love and not hate, for justice and not injustice
Lastly for unity and not solitude, peace be with you
Written by Gabriel and Samuel, HHFL high school graduates
On February 19th, Gabriel and I, two aspiring aeronautical engineers, visited Wilson Airport in Nairobi courtesy of Baba Ted. We had the best moments of our lives as we saw first hand the exciting world of working with planes!
We met with Mr Dyer and Mr. Thomas who, despite being very busy, took time to explain the mechanics of plane engineering and the different fields that one could specialise in.  He also showed us the different types of engines and how they work. His advice will help us make an informed choice when it comes time to choosing a specialty.
Mr. Thomas also talked about job opportunities. It became very clear in our minds that aviation engineering is a very marketable and sought after field. Thank you for igniting our passion and confirming that aeronautical engineering is, without a doubt, what we both want to pursue!
With Alexandra, Mama Hanne's daughter's help, Gabriel and I are currently working very hard to develop our plan for applying to Aviation school as soon as our marks are released at the end of March. We are going to turn "I want" into "I am"! We cannot wait to get going!
Written by Carolyne and Samuel, HHFL's high school graduates
The month of February has been great to HHFL's 2012 high school graduates. We were visited by Alexandra, Mama Hanne's daughter, who is our mentor and coach.  It is a difficult task for anyone who is just fresh from high school to make informed decision on what career to undertake and find the right schools. Alexandra came to visit us at the perfect time to ensure that we do not fall victim of decisions that are not adequately thought of.
Alexandra has been doing a lot of ground work in Canada on our behalf with respect to opening opportunities for post-secondary education. So when she came to visit us, we were very serious and spent every day working together.  She started the coaching sessions by helping us discover our passion and talents with a special emphasis on appreciating ourselves and others. We were given the task of writing down 12 adjectives that describe us and she encouraged us to ask our friends and families to get the most honest and original perspective. Through this exercise, we came to realize our strengths and drawbacks that we never knew before. We had to read our lists out loud to the group and the debates got very animated!!! We were put in our spot very quickly by our peers! It was an exercise that we loved doing and more importantly, it helped us determine suitable career paths.
The second part of the sessions focused on process and execution – two words that we now understand much better. She taught us the steps to turn our dreams into reality. The 'how-to's' is something that we struggle with at times. Under her guidance, we learned how to properly research careers, schools and funding opportunities. She helped us realize that we need to take ownership of our lives to make our future as successful as possible. We must stay hungry for success and count on ourselves to make it happen!
Throughout the sessions, Alexandra helped us build our confidence. After we collected our research, she asked us to present our findings to a large group and she suggested ways to do this without fear. We were put into teams of three and critiqued each other. This was a good exercise as most of us need to work on our presentation style, especially while we are approaching schools and eventually employers.  We also worked together on developing good writing styles – composing original, well organised thoughts in the form of bios and CVs.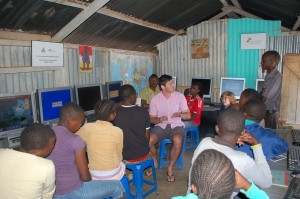 Tom, Alexandra's husband also held a great session on 'web search'. During our research exercise, he taught us the principles of web search and how to do internet searches to get the best results. He taught us about keywords and how to play around with them to get varying results from the search engines. Wow this has really simplified our work!
Our big thanks to Alexandra and Tom for sharing their invaluable time with us! We are continuing to work with Alexandra even though she is back in Canada. We feel very motivated and hope to put our hard work to good use and find post secondary school placements once our marks are released at the end of March.
Written by Mercy, HHFL's high school graduate and Brian Kangethe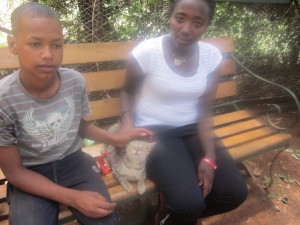 Brian and I recently volunteered at the KSPCA (Kenya Society for the Protection and Caring of animals). Like in most parts of the world, the KSPCA cares for and houses vulnerable animals just like HHFL cares for and houses vulnerable kids.  I have a special love of animals so it was heart breaking to see so many animals, mainly cats and dogs, in such despair.
During our volunteer stint, Brian worked with the dogs and I worked with the cats. We cleaned cages, washed dishes, took the animals for walks and played with them. It is true that animals require as much love and attention as humans.
The KSPCA staff were very happy with our help and asked us to come back. We will certainly be volunteering as much as we can during our spare time! It feels good to be able to give back in some way, even if for animals. How I wish I could take them all home with me!
Written by John and Cedric, HHFL's high school graduates
This year we were lucky to welcome Joan, a wonderful lady to the project. Joan was introduced to us by Moyra, one of HHFL's Board Members. Joan introduced to us the concept of permaculture and sustainable agriculture using simple implements that could otherwise be considered as waste. She also taught us to grow a variety of crops in our compound.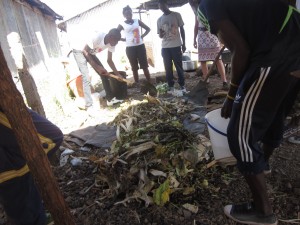 Every session we had with Joan was a great opportunity to learn. She proposed different ideas on how to make good use of our compound. Our first project was to make a home made compost for a small garden. Making compost was like turning waste into treasure! In the process, our team spirit was enhanced while we cooperated together and completed the project. This was a wonderful experience for us all!
Our second project was establishing a nursery for our seedlings. Within a few days the seeds had already germinated. We had planted different kinds of vegetables for example; kales, carrots, tomatoes and beet roots. We also planted a passion fruit in the compound and we are hoping to turn the place into a green zone. We learned different farming methods which are cheap and easy to maintain. It was encouraging to be able to achieve all this. She also pointed out to us why we needed to plant marigold together with our crops. This is because the weed is insect repellent and will drive away any pests that try to attack our plants. The idea of growing things in patterns, according to her, is that insects have visual impairment when it comes to patterns and would easily recognize a plot with only one kind of crop. These are amazing facts we have never known before!!!
In the mean time we are looking after our plants and hoping to have a successful harvest. This one of the best experiences we have had this year. We have learned a lot and we appreciate Joan for her time and kindness. We are certain that we will have a wonderful harvest and perhaps prepare a big party from the crop!
Written by John and Brian, HHFL high school graduates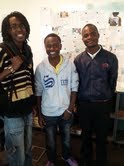 On the 1st of February 2013, we had the priviledge to visit Well Told Stories, a Communications Agency located at Karen, Nairobi. Since we are currently researching career opportunities and post-secondary school options, the visit came at a perfect time.
We met Miss Bridget who was our host and the Manager of the Agency. She was so kind and friendly to us and showed us around. She took all it upon herself to introduce us to the rest of the staff members. After the introduction, we were taken through each department to learn what they do. We had an opportunity to ask them questions about the design of their famous comic book called the Shujaaz.
In the Production department, we were introduced to the different artists who briefed us on how they were able to produce the art work. We later learnt that in order to produce comic book, there are three stages: Sketching, Inking and Colouring. We were so motivated to see how they did their work with passion and skill.
In the Design department we learned about layout. The designer allowed us to sit beside him and we watched him do the designs skillfully using the computer. He also gave us software suggestions so we could practice on our own. We really enjoyed working with him!
Finally, we visited the Public Relations department where we learned that the artists also educate the Kenyan Youths through social networks. They  reach out to the community and the world via Facebook and it has been a great success! We enjoyed our visit so much and did not notice how fast time was moving. Miss Bridget gave us some comic books to share with the rest of the children at the project.
The day was such a success and we really appreciated the opportunity. It also broadened our perspective for pursuing a career in Computer Aided Graphic Design which I, John, have an elephant desire to pursue!
Written by Hanne Howard
To our dear friends and supporters,
I am writing to you on a warm and sunny Christmas Day in Nairobi, a welcome respite from the nightly downpours that  persistently flood much of our compound!   Unfortunately, the forces of nature, the surrounding development and gravity continue to conspire against us. Serious trenching and more fill could provide a solution but getting our landlord and the neighbouring landlords to agree on a plan (that could benefit all of them but cost them some money) has so far proven difficult.  Life in a slum!!
On a brighter note—Ted and I left the Project yesterday afternoon with the Hostel mother, Alice and Mercy (our two University girls) in charge for the next few days as the rest of our staff travels up country for a much deserved rest.  Alice is also responsible of the holiday program to ensure that the kids are constructively engaged but also having fun.  Thanks to the generosity of the Hardie family in Dubai, there was extra money in the kitty for the 35 hostel kids to enjoy a special Christmas breakfast of eggs and sausages (Alice was keen to show off her new culinary skills – part of her Hotel Management training) and a hearty lunch/dinner of kuku/chicken, meat and chapatis (when asked to choose between chapatis (a type of flat bread) and ice-cream, chapatis won by a huge margin)!
Apart from our fun Christmas celebrations, I am so excited to share with you some of our biggest achievements of 2012. Since there is much to report on, I have prepared a letter for you that is available as a PDF below. I hope you will take a moment to read about all the significant milestones and improvements that, with your amazing help, we have enjoyed throughout the course of the year! For me, these wonderful achievements make this huge effort worthwhile and I hope you will feel the same way. Happy New Year and we wish you all the best for 2013!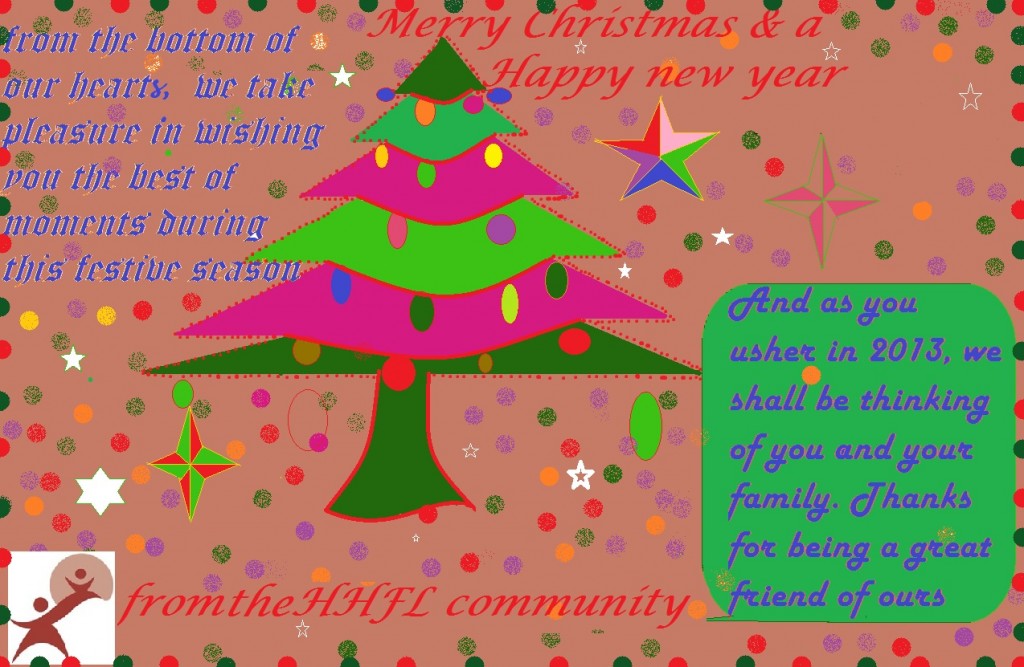 Written by Isaiah Kirieri
The morning of 22nd October was a special day to our kids where we had a very interactive session with Robert, a 23 year-old scholar from Canada and the staff from Providence Clinic.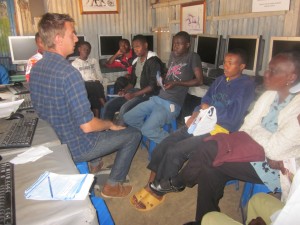 The session was a way for the HHFL kids to express any ideas and/or concerns they had surrounding HIV & AIDS.  Robert observed that most of our kids have significantly more information about the topic, which led to a very healthy and open discussion. Under his captaincy, our kids got furnished with additional facts and Robert cleared any doubts that were not clear to the kids.
Robert was in Kenya during the month of October from Canada as a volunteer and as a student. According to him, he had expected some challenges during his presentation because he hadn't done something like this before. But the informed responses from the kids made him feel so motivated and he had a very easy time to deliver what he had been planning.
HIV and AIDS information is what each of our children is being equipped with to have them better placed to deal with their current challenges and live a responsible adult life. Unfortunately the threat and presence of HIV and AIDS is a reality of every day life in slum environments.
We much appreciate the kindness that Robert extended to us and the knowledge he shared.
This 1st December, we shall be marking the World AIDS Day at the Centre for Study of Adolescents. Our goal is to provide all the necessary avenues to our kids obtaining valuable skills and life values.